About Us
Brian Trout Ranch is a privately owned trout hatchery that supplies rainbow trout to pond and lake owners throughout the state of Oregon. It is located in the Cascade foothills near Sandy, Oregon on 32 acres owned by the family since 1941. The water supply is from two large springs that converge at the beginning of the property creating a perfect environment for rearing trout.
The trout ranch was started by LG Brian and his father Bert Brian in 1958. It was one of the first fish farms in the Northwest. Fifty years later fourth generation Brians are still at the helm.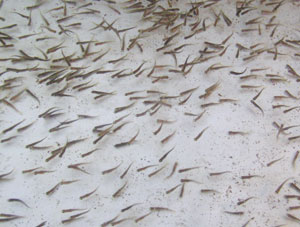 As always we offer fast growing, healthy, and vigorous Kamloops rainbow trout delivered to your site. Sizes of fish available for stocking range from 2 inch to 12 inches depending on the time of year. All deliveries are guaranteed and can be made statewide. We handle all permits required by the Oregon Dept. of Fish and Wildlife needed for fish planting.
Our business has been successful since 1958 due to the pride that we take in our product and the fair and honest treatment we give our customers. Please contact us with any questions you might have such as stocking rates, size of fish, mixing species, feeding, weed control etc.